After searching for a UK based supplier of Versa Gripps or at least an alternative brand, I realised that i'd have to pay expensive delivery costs on top of an already pricey retail price to get a pair. I was looking at upwards of £60 to get my hands on a product I'd never tried before!
Fortunately Myprotein released a similar product for a fraction of the price. They had a free giveaway competition and I was lucky enough to win a pair.
Myprotein Ultimate Grips Review

Product Name: Myprotein Ultimate Grips
Product Creator: Myprotein
Website: www.myprotein.com/uk/products/myprotein-ultimate-grip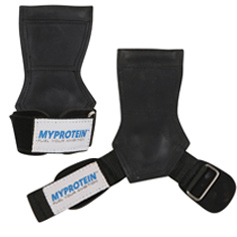 I've been thoroughly impressed with Myproteins Ultimate Grips; and although I've never tried Versa Gripps in order to draw an accurate comparison, I'd be surprised if Versa Gripps could do anything more to justify the cost (especially if you live in the UK). I use my Ultimate Grips on almost every lift now because of how secure my hands feel, this helps me focus completely on the target muscles. They are ergonomically designed and haven't impeded grip strength, they act only as aids to grip when needed (on the last few reps if/when your grip starts to give out before the target muscles).
I've been using Myproteins Ultimate grips for over a year now, and with daily use they show no significant signs of wear and tear. My first and continual impression is that they're robust and designed to take a bit of punishment. I'm not Ronnie Coleman however, so if you're intending to use these for 800lb deadlifts and your grip strength sucks relative to the weight being used, then I have no idea how effective or robust these grips will be.
Myprotein say "Myprotein Ultimate Grips will outperform lifting gloves and lifting straps in the quest to improve technique and reduce grip fatigue, often the first reason heavy lifts fail early."
I personally believe these are far more effective than lifting gloves, and although I don't use straps myself, my training partner did comment on how they were a lot easier and quicker to use.
Myproteins Ultimate Grips Pros and Cons



Pros and Cons:
Pros
Cheap UK alternative to Versa Gripps

Reasonably Priced £9.99

Robust

Easy to use

Comfortable
Cons
Myprotein don't include any wrist size guidance on their website.
​I have fairly small wrists at around 7 inches. If you have 8.5+ inch wrists then the grips might be a tight fit (they are adjustable though).
Personally, I think these are definitely worth a shot at under £10 (assuming the price stays the same, please leave a comment if they bump the price up). I've come back to update this review after about a year + of use and the grips are still going strong.
I'll be posting some pictures up to show the wear and tear, but nothing has ripped and they are still in decent condition (minus the scufff marks).
I've also read a few reviews from others, since there were none when I got my first pair, regarding the grips snapping on heavy deadlifts. However, as I mentioned originally, these grips shouldn't be used to compensate for a sh*t grip strength relative to the weight that's being used. They're more geared towards making your hands feel like hooks so you can focus on the target muscle groups without trying to move the weights with your hands.
Overall Rating: 9/10
If you get a chance, please be awesome enough to paste my MP referrer code when you place an order MP378540
This just gives me a few points towards my next order and helps me out, much appreciated all 🙂